Fleet


The King Air 350i is a very popular business aircraft in its class. With its efficiency we are able to bring you comfortably to a variety of destinations.
The spacious cabin has a double club seating layout which features built-in hideaway executive work tables. The cabin has room for up to 9 passengers and large baggage compartment.
State of the art instrumentation
Our King Air 350i features the newest touch screen instrumentation from Rockwell Collins. This state-of-the-art instrumentation allows us to use our King Air to its full potential.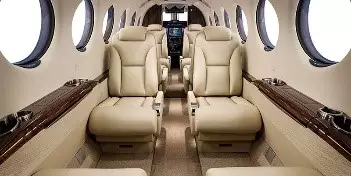 Interior dimensions
Cabin Length: 5.94 m
Cabin height: 1.45 m
Cabin width: 1.37 m

Performance
Performance data given by the manufacturer
Max cruise speed: 578 km/h (312 kt)
Max operating altitude: 10'668 m (35'000 ft)

Dimensions
Aircraft length: 14.3 m
Aircraft height: 4.4 m
Wingspan: 17.8 m